"Look for the good in this bad situation."
Jarrett Mynear was a very special 13-year-old boy who lived in the central Kentucky community of Nicholasville with his mom, Jennifer, his dad, Doug, and younger sister, Claire. He was interested in those things enjoyed by kids his age – playing with friends, video games, swimming, and going on vacation.
The thing that made Jarrett a little different from most kids was that he was diagnosed with cancer six times from two years old until he succumbed to the disease at age 13. As a result of his treatment and rehabilitation, Jarrett spent a lot of time in hospitals receiving chemotherapy, two bone marrow transplants, and the amputation of his lower right leg.
His treatments were administered at various medical institutions including the Mayo Clinic, the Fred Hutchinson Cancer Research Center, the Kentucky Children's Hospital, and the National Institutes of Health.
When first diagnosed, a family friend told Doug and Jennifer to "look for the good in this bad situation." Though that statement may seem a little odd, Doug and Jennifer discovered a number of special friends that the family met from across the country. It was because of these friends and Jarrett's compassion for others that Jarrett decided to start Jarrett's Joy Cart.
As a patient himself, Jarrett knew that being in the hospital is scary and lonely. But, he also realized the importance of knowing that someone else was thinking about you as well. So, Jarrett's goal in starting the Joy Cart was to bring excitement and joy into every child's hospital stay.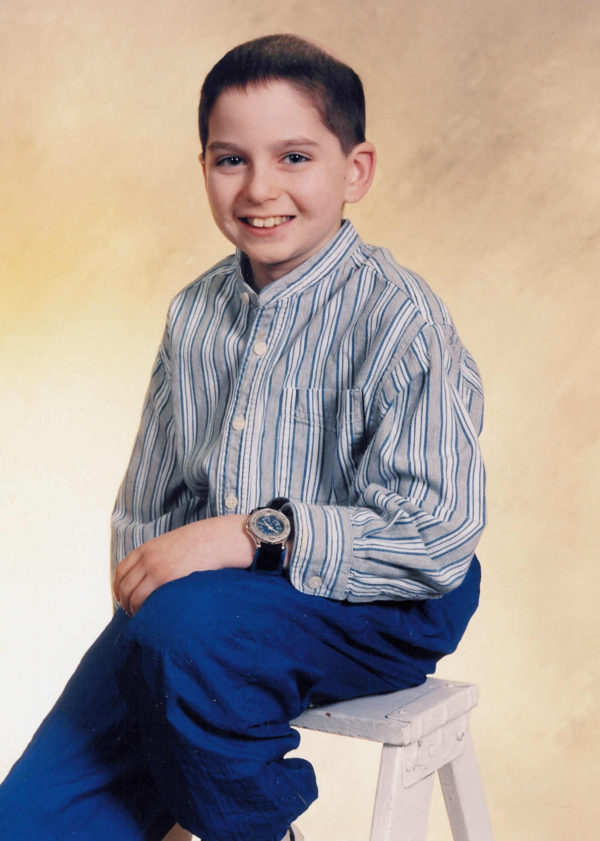 In Loving Memory of Jarrett Mynear
IN MOMENTS OF JOY…
Jarrett's philosophy was that in moments of joy, there is healing. This rings true in the various outreach efforts Jarrett's Joy Cart now provides. Jarrett often spoke of the importance of looking out for others and bringing a bit of joy to those most in need.
The Boy Who Delivered Joy
We have some exciting news from our friend, FOX56 News Anchor, & author, Marvin Bartlett about his latest project:
In 2002, I was delighted to write a book called "The Joy Cart," about the incredible accomplishments of a little boy who had battled a rare bone cancer from the age of two. Jarrett Mynear's project of giving toys to patients at the University of Kentucky Children's hospital captured the attention of influential leaders, won him many awards, and appearances on national television. Jarrett died a few months after the book was released, but his spirit continued to reach people in amazing ways. Now, it's time to tell the rest of the story.
An updated version of the book, with new chapters and photographs, is now available. "The Boy Who Delivered Joy" contains all of the original material, but also tells about Jarrett's last wishes, his remarkable funeral, and how pediatric cancer care has improved at the University of Kentucky, largely because of donations in Jarrett's memory. The book details how UK's hugely popular DanceBlue marathon is linked to Jarrett and has many stories from other people who have been inspired to perform acts of kindness because of Jarrett's example.
You may be surprised to know that Jarrett's Joy Cart still runs on a weekly basis at three hospitals around the nation. Hundreds of thousands of toys have been given away, but the project is about so much more than toys. I hope this new expanded book will inspire anyone going through tough times to make each day special.
"The Boy Who Delivered Joy" is now available to buy as a printed book or an ebook through Amazon, Barnes and Noble, Apple Books and Google Play Books. — Jarrett's joy lives on!