In keeping with the spirit of Jarrett's original message
The Mission of Jarrett's Joy Cart of Louisville
In keeping with the spirit of Jarrett's original message, Jarrett's Joy Cart of Louisville's mission is to positively impact children battling cancer at Norton Children's Hospital in Louisville, by providing for a joyous moment or experience while also supporting the nurses and caregivers who serve our children. The Joy Cart works to find ways to help those families struggling to deal with this life-changing disease through various forms of donations.
Jarrett's Joy Cart of Louisville began in 2001 by Jarrett's Aunt and Uncle, Margaret and Mike Wagner, who continue Jarrett's work today at Norton Children's Hospital in Louisville. With the approval and support of Jennifer Mynear, Mike's sister and Jarrett's mother, our group in Louisville continues the work of bringing joy to the kids who battle cancer each day and the nurses and staff who provide their care. Our Joy Cart has the same mission as Jarrett's first work in Lexington, focusing our service directly on the kids and their families.
Our Louisville Joy Cart started humbly; bringing toys, games, and fun to the kids on 7 West every two weeks. Following our first A Time for Joy Gala in May 2002, we had sufficient funds to begin serving our kids each week. Our work has continued for over 20 years now, and hopefully for years to come.
Due to the generosity of our supporters, beyond our weekly visits of toys to both the inpatient and outpatients on 7 West, the Joy Cart has been able to fund many activities.
Monthly: Noting that hospital food can become a little boring during a long stay at the hospital, the Joy Cart of Louisville works to serve dinners to the kids, their families, the nurses, and staff once a month to help break the monotony provided by our friends at Starving Artists. We also provide food gift cards from local restaurants as part of our weekly visits to the kids and their families.
Yearly: Thanksgiving and other holidays can be a challenge for those who cannot return home during those times. The Joy Cart has served Thanksgiving dinner to those children and families who have no chance to return home. We also include the nurses, support staff, and their families to share the holiday.
Unable to attend movies and, in many cases, even leave the floor, we could fund and create a movie experience in the main playroom. Working with movie providers, the kids were able to watch first-run Disney movies and other fun movies, requiring little effort from the support staff other than pressing a few buttons. In addition, a large popcorn machine was provided to enhance the experience.
2011: As Norton Hospital has expanded and improved its cancer centers, the Joy Cart has been proud to contribute $10,000.00 to build a state-of-the-art playroom, dedicated as Jarrett Mynear Pediatric Playspace, in the Norton Cancer Institute facility downtown so the brothers and sisters of those kids getting treatments can be entertained.
2012: Jarrett's Joy Cart 10th Birthday: we had an ice cream party with a magician that came to the hospital. Gelato Gilberto provided all the ice cream!
2012: Rolled the Cart to Indian Summer Camp: A fully medically staffed Summer camp for children who have been diagnosed with cancer. In 2014, each child who participated in camp left with a Jarrett's Joy Cart Backpack to take home with them.
2013: We announced Jarrett's Back Packs, a program designed to provide each child with a bright, new backpack upon admission to 7 West. Depending upon the child's age, the backpack is loaded with pens, pencils, crayons, a toothbrush, toothpaste, electronic games, iTunes gift cards, gift certificates for food, and many other fun items to know we support them in their fight. We hope you will join our sponsors in this program through a $50.00 donation. Each donation helps defray the cost of the backpack and the contents
2016: Angelica's Charity Bracelets: We helped her purchase what she needed to make her bracelets sell them, and she then used that money to buy toys for the cart.
2017:When Children's Hospital was seeking to fund a Pediatric Hematology Fellowship. The Joy Cart was able to contribute $100,000.00 to that project. Dr. Justin Farge was selected and proudly wore the
name of Jarrett's Joy Cart on his chest as he worked with our kids.
2018: While seeking to expand our impact on kids and families struggling with this disease, we joined Child's Spirit, Inc., a local charitable group to help a young single mother whose child dealing with a critical heart issue also developed cancer. With nowhere to live, our groups teamed with Lisa Lynn
Designs to perform a $60,000.00 renovation of an apartment so the two could have a safe and comfortable place to live. The apartment owners have provided it as long as it is needed. We also provide a year's worth of Kroger gift cards to cover food and gas.
2020: Covid caused an end to our weekly visits to the hospital that have only recently restarted. Yet, the needs of the children and their families did not stop with Covid. Joining with Children's Hospital, the Joy Cart donated $10.000.00 to stock the Food Pantry for the hospital for use by the families of the kids. A $5,000.00 resupply was also needed as the pandemic continued.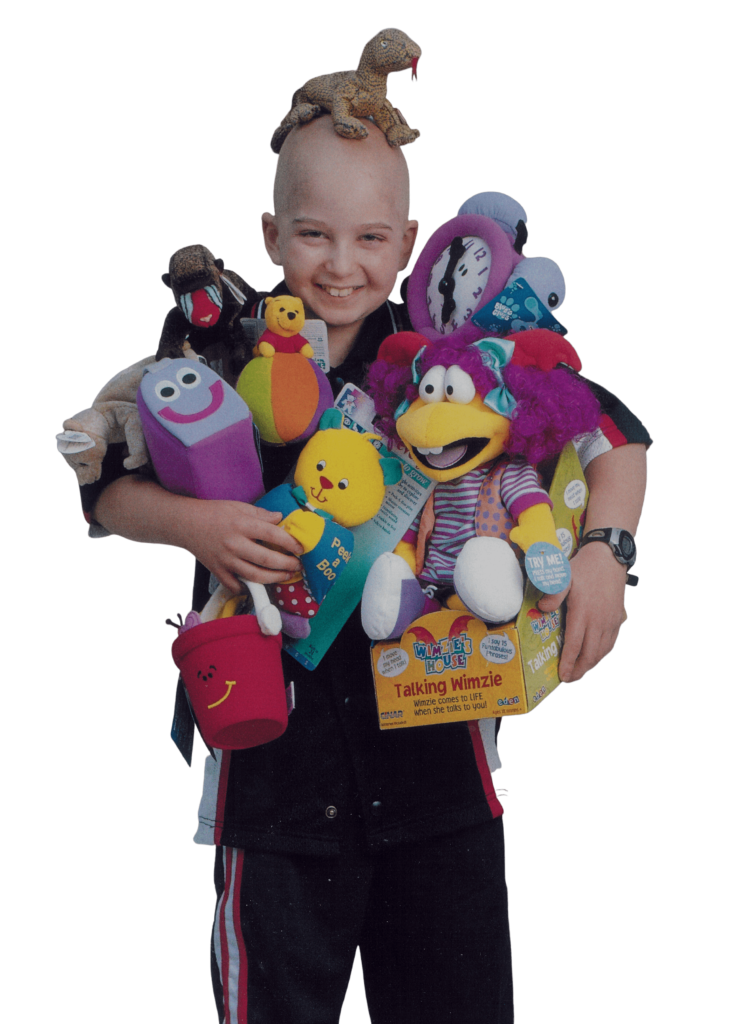 "It's not really about the toys. It's about giving the kids something to look forward to and to enjoy."
Jarrett Mynear